I'm happy dancing! If you read my post a couple days ago, you'd see that I've been w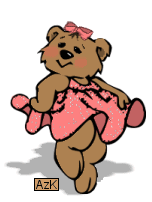 aiting on the results from the Linda Howard contest and I rec'd them late last night:
'When You Least Expect It'
is a finalist!!!


Wow! I'm so excited!
In the next few days I'll receive my entry back along with the judges' comments and I have a week or so to revise my entry, if I wish, taking their insights into consideration. Then I re-submit and wait for the final judging.


I'm not going to tell you who's the final judge, but she's from my target line at SH.

Happy dancing...