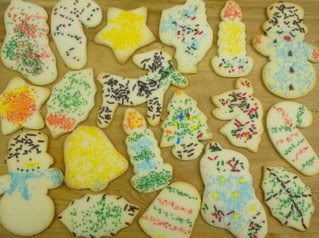 As promised yesterday, here is a pic of some of the sugar cookies Dad and the kids decorated on Monday afternoon.
Our church Christmas program was entitled 'It's a Boy'.
I played the part of a Biblical teacher with a couple of students wondering if Mary allowed others to hold her precious baby.
The wisemen, also called the 3 Kings, were announced by a young girl dressed in a Japanese outfit.
The 2 young boys on the left are my real life sons.